2022-2023 Season
Theatre That Inspires
Jesuit education has a centuries' old tradition of nourishing the fine arts. Bellarmine is proud to carry on that tradition, not only through its Visual and Performing Arts curriculum, but through its co-curricular Theatre Arts Program.
In the spirit of the overall mission for our school, our theatre arts program empowers each student to maximize his (or her—because local high school girls are a welcome part of our program) various artistic skills, especially in the areas of performance and technical theatre.  
Our productions do sometimes challenge conventional wisdom, moving our members to a greater appreciation of how artistic creation can become a vehicle for social justice. Other times, they are just plain fun! But they are always an expression of hard work and dedication, shared whole-heartedly with our audiences. 
Theatre Productions
Bellarmine runs a full theatre season—fall drama, winter musical, and spring comedy—on two state-of-the-art stages in the Sobrato Center for Humanities and the Arts. Upwards of 200 students are involved in the program every year, inclusive of stage performers, musical accompaniment, and technical theatre/stagecraft. The technical theatre component gives students an opportunity to learn stage design, construction, lighting design, sound design, stage management, and marketing.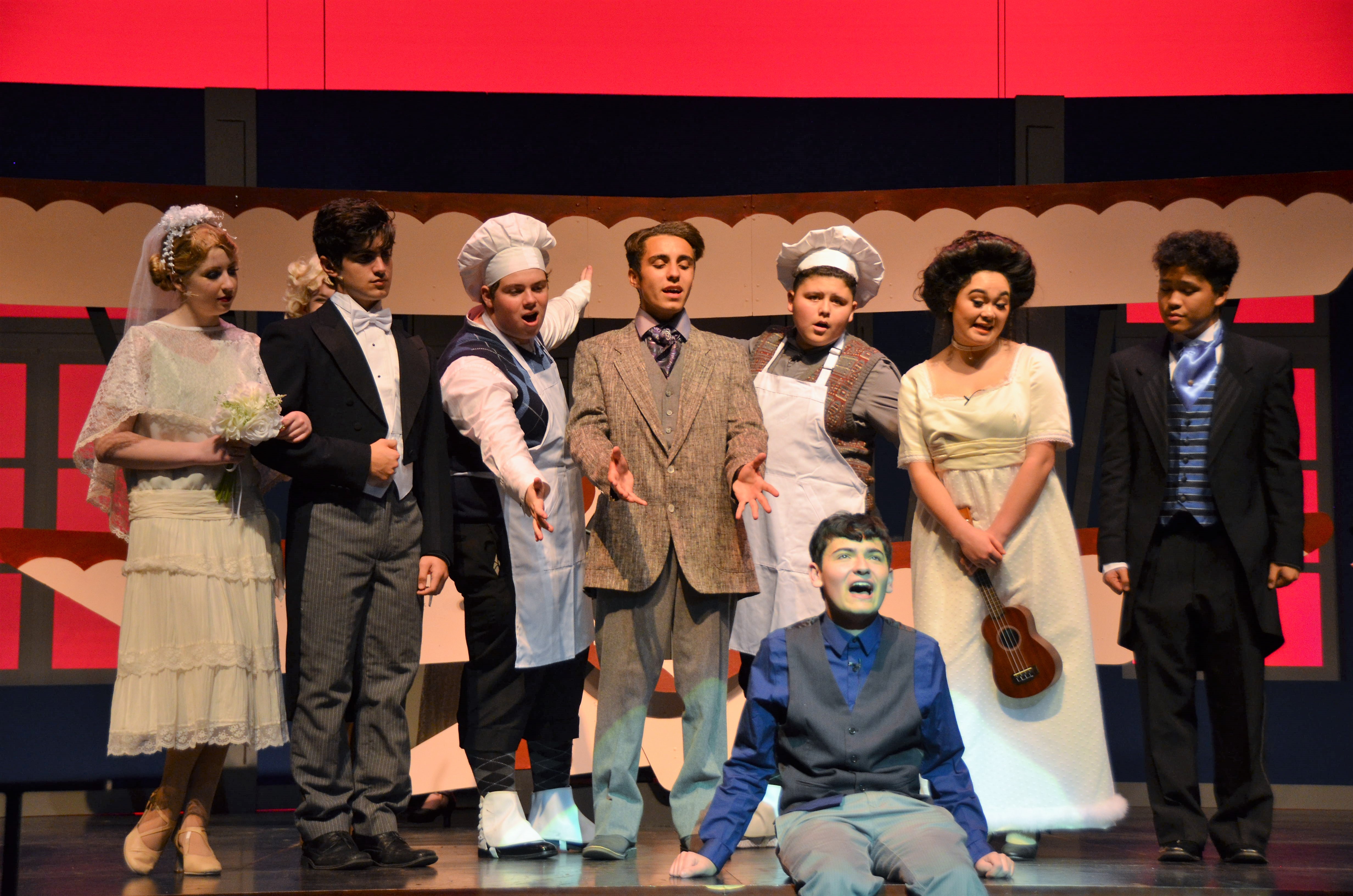 Our program has been recognized, both by the local press and by various national theatre organizations, for its professionalism, vitality, variety, non-traditional casting, and non-traditional staging, as evidenced by such full-scale productions as Shrek: The Musical, Hairspray, Les Miserables, Of Mice and Men, Bat Boy, Noises Off, Peter and the Starcatcher, The Who's Tommy, and A Midsummer Night's Dream. 
Many graduates of our program have gone on to work in the entertainment industry. Alumni who have experienced stage and television success include Alex Brightman '05 (Two-time Tony nominee, Best Actor in a Musical for School of Rock and Beetlejuice), Ryan Vasquez '10 (Hamilton, Wicked, and Waitress on Broadway), and Sunkrish Bala '02 (The Walking Dead and Castle).
Sanguine Humours and Nonsensicals
Bellarmine's theatre arts program also includes two improv comedy troupes—Sanguine Humours and Nonsensicals.
Founded in 1989 by theatre students, Sanguine Humours is named for the medieval "sanguine" temperament, which is characterized as impulsive, boisterous, and often-times sarcastic. The group performs monthly lunchtime shows and two mainstage shows per year. In 2016, Sanguine won Bellarmine's Justice and Advocacy Award for their service in raising funds and awareness for local and global causes. Auditions are held in the fall of each school year. 
Nonsensicals is a student club that meets during lunchtime to play improv games, hone their skills, and laugh.  It is open to all students—no audition required!