Bellarmine College Preparatory is a community of men and women gathered together by God for the purpose of educating the student to seek justice and truth throughout his life. We are a Catholic school in the tradition of St. Ignatius of Loyola, the Founder of the Society of Jesus. As such, our entire school program is dedicated to forming "men for and with others"—persons whose lives will be dedicated to bringing all their God-given talents to fullness and to living according to the pattern of service inaugurated by Jesus Christ."
Our Philosophy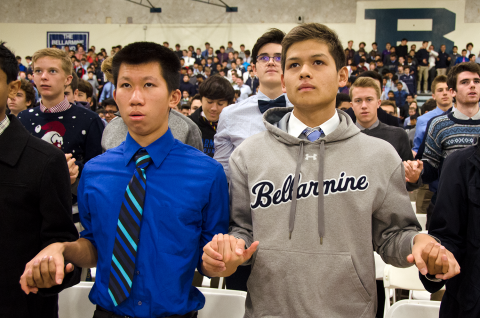 Bellarmine College Preparatory, a Catholic school in the Jesuit tradition, is a diverse and inclusive community of students, Jesuits, faculty, staff, parents, alumni, and friends, drawn together by God's grace to form men for and with others who live a faith that does justice.
We challenge young men to become contemplatives in action: young men who know they are loved by God and, as a response, discern how best to put their talents at the service of others. We develop the whole person through a rigorous and holistic curriculum, expansive opportunities beyond the classroom, and a vibrant spiritual formation program. We cherish our diversity as we educate each student to see all people as created in God's image and as unique expressions of the Divine.  
Seeing God in All People
Bellarmine cherishes its diversity and strives to educate each student to accept that all persons are created in God's image and are unique expressions of the Divine. Our Diversity Program is based on the core Ignatian value of "Seeing God in All People." 
Students at Bellarmine reflect a wide variety of backgrounds, experiences and faith traditions—yet students embrace each other as brothers and love one another as members of God's family. Our diversity inspires the men and women of our community to create a loving and nurturing environment where each student's talents, abilities, and desires can reach their highest expression. We believe exposing students to an environment rich in difference offers the student a capacity to engage in a loving dialogue with the world upon graduation. Our hope is that this dialogue will build a more just and faith-filled world.
The Diversity Office centers its programming on eight types of diversity:
  Race / Ethnicity
  Religion
  Gender
  Age
  Ability / Disability
  Sexual Orientation
  Geography
  Socio-economic Status
Our approach is to focus on students' awareness of their own identity and experiences and then explore how these insights translate to their perception of others.