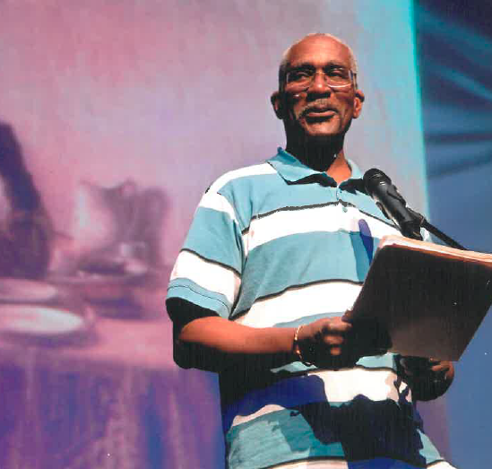 About Steve Pinkston
Rev. Steve Pinkston has been a high school teacher (Biology, Mathematics, Social Science and Religious Studies), coach and administrator for the past 42 years.  After beginning his teaching career in Southern California, he settled in San Jose, CA teaching at Bellarmine College Preparatory in 1980. He currently serves as the Christian Service Director where he promotes service-learning throughout the curriculum, coordinates and supports local/foreign immersion experiences and advances justice concerns/issues within the school community. Rev. Pinkston also serves as the moderator for Bellarmine's Black Student Union and the Agape Service Club.
Rev. Pinkston was ordained in 1984 under the pastorate of his father - Rev. Dr. M. Samuel Pinkston - at Antioch Baptist Church.  He served in the youth ministry at Antioch for ten years.  Currently Rev. Pinkston serves as associate pastor at Maranatha Christian Center in San Jose.  There, he teaches and coordinates the prison and jail outreach ministries.   He has been volunteering at Juvenile Hall, Elmwood Jail and San Quentin State Prison for 30 years.
Beyond his work in education and ministry, Rev. Pinkston continues to remain active in the community.  He serves as an advisory board member for Loyola Marymount University's L.E.A.D. Institute, served with Mayor Sam Liccardo's Mayoral Transition Team, is an executive board member for East Side Heroes' Mentoring Program, is an active member with the Santa Clara County Alliance of Black Educators, supports the San Jose chapter of the N.A.A.C.P. and actively serves with the Faith Leaders Board of the American Leadership Forum of Silicon Valley.
Rev. Pinkston holds a B.A. in Biology from Pomona College, has taken classes at the University of Nairobi in Kenya, holds a master's degree in Education from Claremont Graduate University and a master's degree in Theology from the University of San Francisco.  He has also traveled to 30 countries and is an avid bicyclist.
Rev. Pinkston has been married to Lenora Clease Pinkston for over 35 years.  This union was blessed with two children.  Aaron works as an electrical engineer at Lockheed Martin.  Lauren works in the admissions office at Bellarmine, is married to Michael Madison and has a son - Michael Tian Madison - Rev. Pinkston's first grandchild.