The Bellarmine wrestling team is a fun, positive place for hard work and strong dedication. As the winter season's only no-cut sport, the freshman, junior varsity (JV), and varsity teams welcome students of all sizes and levels of experience. In 2019, the Bells were able to capture their fourth West Catholic Athletic League (WCAL) title, going undefeated in duals. The Bells went on to finish 4th in CCS, with two Bellarmine wrestlers moving on to the State Meet.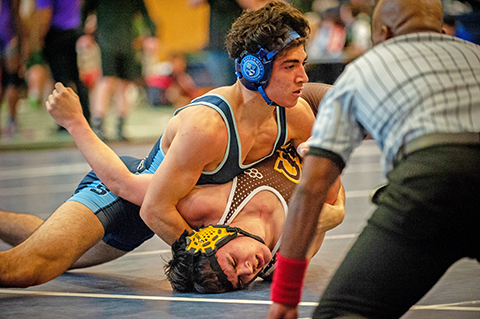 In addition to success on the mat, the team has been honored with CCS Scholastic Championship Team awards three of the past four years.
Over the years, Bellarmine wrestling has captured 23 of 31 WCAL team titles.  
Coach Bio
Coach Scott Benson has coached 61 seasons of high school athletics in both football and wrestling. After spending two years at his alma mater with legend Gus Talbot, Benson began his Bellarmine coaching career in 1991 under the tutelage of the founder of the program, Tim Kerr. In that time, he has coached 14 state placers along with a number of state qualifiers and CCS Champions and medalists. He was also a member of the staff that coached the 2001 team to a CCS Championship and Bellarmine to 11 straight WCAL titles, the longest run in the history of the league. Coach Benson preaches hard work, commitment, the importance of conditioning, and an aggressive style of wrestling.