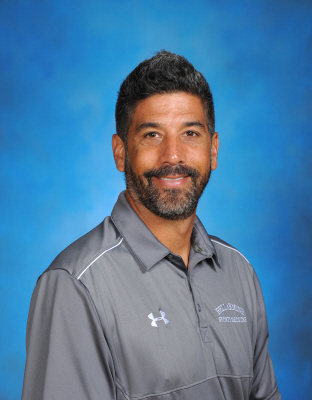 The Santa Clara County Board of Supervisors and its president, Cindy Chavez, recently recognized several individuals and organizations who have performed outstanding service to the community during the pandemic. Among them is Mark Moreno, Bellarmine's associate athletic director/director of sports medicine, who is a recipient of the District 2 Supervisor's Medal for Outstanding Service During the COVID-19 Pandemic.
The recognition occurred during a virtual ceremony held on December 14 during which many community members received additional honors, including the President's Medal for Exemplary Service During the COVID-19 Pandemic and the Santa Clara County COVID-19 Service Medal.
"This has been a year of tremendous struggle for all of us living in Santa Clara County," noted Supervisor Chavez. "The human cost of COVID-19 has been enormous, more than 500 lives lost and a staggering amount of sorrow and suffering. However, during this crisis our community has come together like never before."
As a key member of the school's COVID-19 Task Force and as Bellarmine's COVID designee for the County, Mark has been instrumental in the careful oversight of the Bellarmine community, ensuring that the school is compliant with all health and safety regulations and protocols. This has also resulted in exponential pandemic relief support by many members of the Bellarmine community including faculty, staff, and students who have been involved in such actions as the manufacturing of PPE in the school's Maker Lab for local healthcare workers and being aligned with other nonprofit organizations in Santa Clara County that are assisting in COVID-19 relief efforts.
Through it all, Mark has kept the well-being, both physical and mental, of every student and faculty/staff member in the forefront, and his efforts have allowed the return of many students to campus as permitted by Santa Clara County Health guidelines, giving them a sense of normalcy during an abnormal time.
A grateful Bellarmine community congratulates Mark Moreno on this well-deserved recognition.