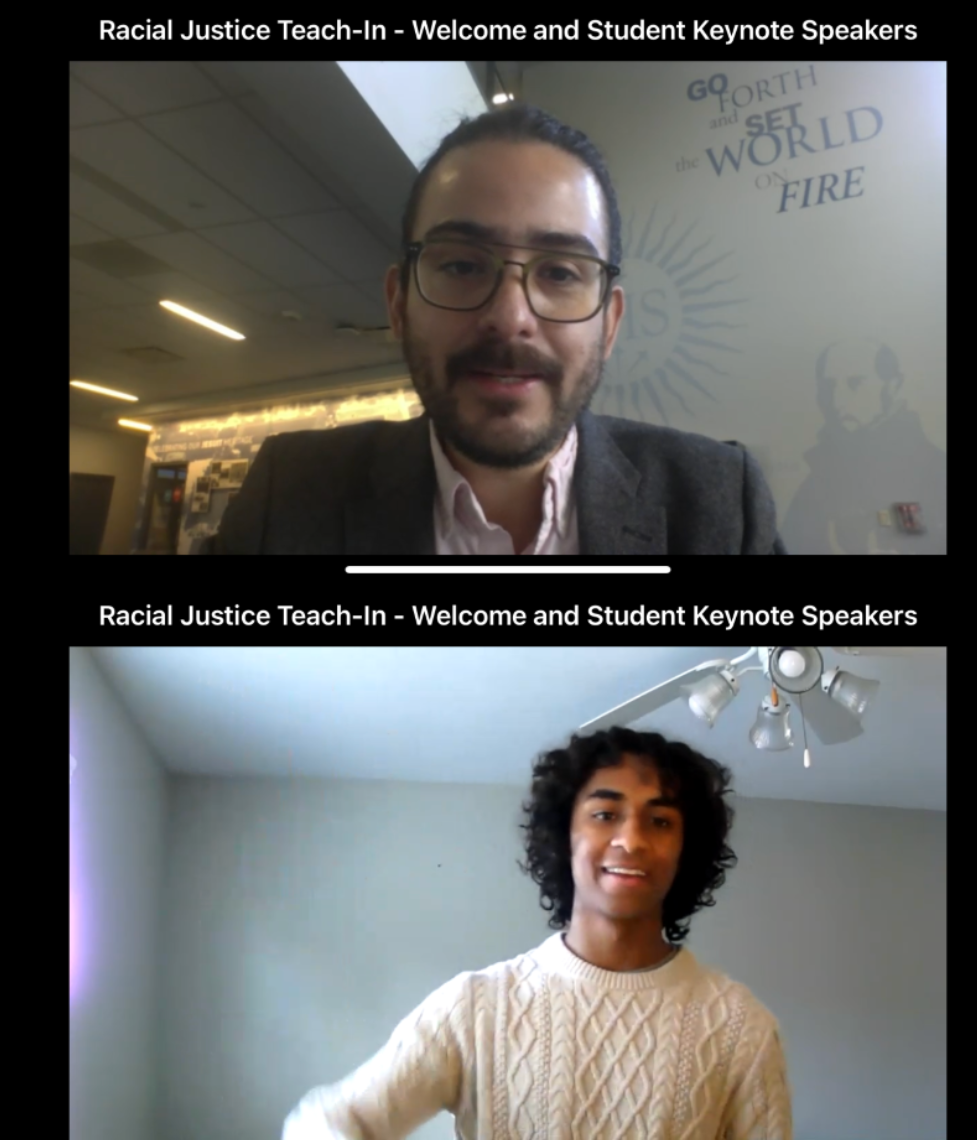 The Bellarmine College Prep community participated in a virtual Racial Justice Teach-In on March 10, during which students, faculty, and staff explored a multitude of issues related to social and racial justice.
The event was organized by Bellarmine students involved in the school's Unity Council, with the support of the Office of Diversity, Equity, and Inclusion. The teach-in, an extension of the school's decade-long Summit on Human Dignity that has explored such topics as Gender, Sustainability, and Poverty, was in-line with the work of the national family of Jesuit ministries, which includes the annual Ignatian Family Teach-In for Justice.
"Given the challenges that we have endured during the pandemic, the idea of hosting a campus-wide event of this magnitude seemed unlikely," noted Carlos Jiménez, Bellarmine's director of Diversity, Equity, and Inclusion. "I am incredibly grateful for the leadership of Unity Council students and the support of faculty members to make this event a reality."
According to Mr. Jiménez, the goal of the Racial Justice Teach-in was to provide all students with an opportunity to share their personal stories about race, engage in courageous dialogue, explore complex topics about equity and inclusion, and to empower all for the seeking of meaningful actions that will have an impact on the Bellarmine community and beyond. In addition to Mr. Jiménez, among the many faculty and staff members instrumental in coordinating the event were Cora Antonio, Lauren Madison, Missy Scott-Flórez, Cindy Bailey, Brian Jeung, Maren Lane, and Patrick Roemer.
The day began with a panel of student keynote speakers, followed by breakout sessions presented by students and adults with topics that included COVID-19 in the San Jose East Side and Asian Community, the history of racism in California and Santa Clara Valley, DEI terms and their meanings, shattering Muslim stereotypes, and the complexity of culture. A session titled Slavery, History, Memory, and Reconciliation was presented by members of a group that is working to address historical and systemic inequities in Catholic and Jesuit ministries.
The event concluded with reflections shared by another panel of students, and then an optional virtual social opportunity.
The Bellarmine community is grateful to all student and adult participants for providing such important, thought-provoking, and relevant presentations, discussions, and reflections.