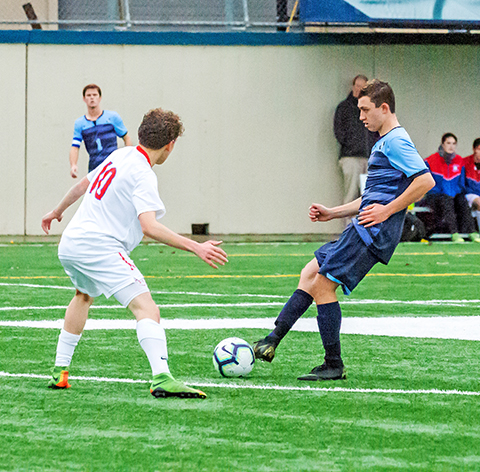 Bellarmine fields three teams in Soccer: Varsity, Junior Varsity, and Freshman. Soccer is a cut sport with consistently over 150 students trying out for the teams year after year. The Freshman team will consist of 20-22 players, 20-24 at JV, and 24-26 at the Varsity level.
Bellarmine Soccer has a rich history of success. The 2020-21 team earned the school's 21st CCS Championship by winning the Open Division title. Bellarmine Varsity Soccer has won 4 of the past 5 CCS Championships in the last 5 season (2018-2022). The Varsity team has qualified for the NorCal tournament every year since its inception, and won the school's first NorCal Championship in soccer.
Coach Bio
The Varsity team is led by Conor Salcido '07. Coach Salcido played for Bellarmine when he was a student, winning both WCAL and CCS championships as an athlete. He began coaching the Frosh level during the 2012-2013 season, winning 3 WCAL championships as Head Coach before accepting the role of Head of Program for Soccer in 2015-2016. Since taking over the program, Bellarmine soccer has won multiple WCAL and CCS titles along with the program's first NorCal Championship. Bellarmine's Soccer program has won more WCAL and CCS titles than any other soccer program in the league or section. Conor is very proud of his program and players and is thankful for his amazing coaching staff who share his vision and goals for the teams. Conor is assisted by Nick Butler '11, Henry Ainley '08, and Jeff Rhodes '89 at the Varsity level. Junior Varsity coaches are Matt Marquess and Kasey Monaco (Math Teacher). Frosh Coaches are Jeff Rhodes and Nick Butler. Conor is very excited for the 2022-2023 season and is expecting great things from all levels of his program.