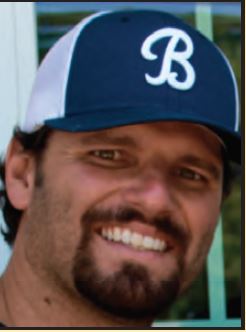 Coach Mike Rodriguez '93 spent 19 years in various roles within the Bellarmine community. Beginning in 1989 as a student, Rodriguez returned to Bellarmine as a member of the Admissions Department and coaching in both the basketball and baseball programs. Rodriguez landed in baseball as the Head of the Baseball program when his coach and mentor, Gary Cunningham, retired.  As a vital member of the Bellarmine community for parts of 5 decades, Coach Rodriguez is now making a move to Southern California. A family decision, he will be stepping away after 12 years as the varsity baseball head coach.
After playing baseball collegiately at Sonoma State, Rodriguez returned in 1999 as a varsity assistant baseball coach and helped lead the Bells to CCS and WCAL titles. Coach Rodriguez returned in the same roll in 2000 to help the team reach a then school record 30 wins. After spending time coaching at the College of San Mateo, as an assistant coach at UNC Greensboro, and as a coach in the acclaimed Cape Cod Summer League, he returned to Bellarmine as the JV head coach in 2008. In 2009, Rodriguez began his 12 years as the varsity baseball head coach.
Coach Rod (as he is fondly known by his former players) continued the tradition of strong Bellarmine baseball teams. Over the course of his 12 years, Bellarmine won the 2013 WCAL championship, and his teams were the 4x CCS runner up, won the 2017 and 2018 Northern California Boras Classic, and won the 2018 California Boras Classic. Several of the teams ranked in the top 25 in the country during his tenure. There were 55+ players that went on to play collegiately, 35+ Division 1 players, and 5 players drafted during his tenure as head coach at Bellarmine. Coach Rodriguez will step away with an incredible 220-126 record as Head Coach, putting him third all-time in Bellarmine baseball history.
The greatest victory for Coach Rod and his family came on March 16, 2018. In November of 2015, Coach Rod and his wife, Gina, faced a parent's worst nightmare as their daughter, Sofia, (3 years old at the time) was diagnosed with leukemia. Over the next 2+ years, Sofia received chemotherapy and was supported by people throughout the Bellarmine community and beyond who embraced the motto #sofiastrong. The motto became the rallying cry for the Bellarmine baseball team as it stood for overcoming obstacles, giving all that we have, and never giving up. On March 16, 2018, Sofia received her final chemotherapy treatment and is doing well today.
The Bellarmine baseball program, which will begin a search for a new head varsity baseball coach in the near future, is forever thankful for the contributions of Coach Rodriguez as the team always carried itself in ways that made the community proud. The hope is that this new chapter in life brings as much joy to Coach Rod, his wife Gina, daughter Sofia (7), and son Michael (4), as he has brought to his former players. Coach Mike Rodriguez leaves a legacy as a winner both on and off the field. Go Bells!