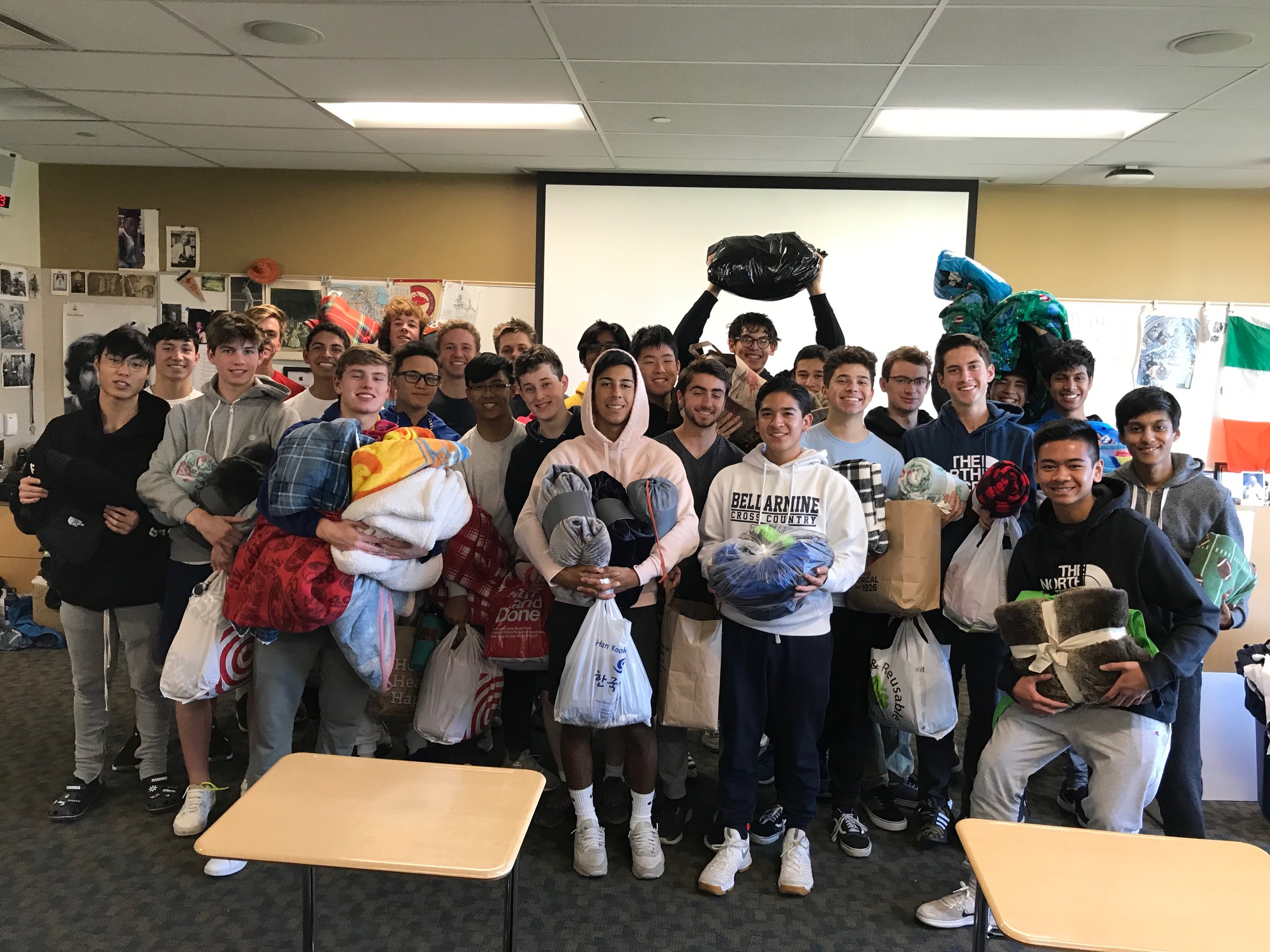 The Bellarmine College Preparatory community collected warm clothing, blankets, sleeping bags, and socks during its annual Winter Warmth Drive, now in its 26th year.   
Faculty, staff, students, and parents all participated in the drive, which took place November 11-22 with an ambitious goal of collecting 750 blankets for HomeFirst's Cold Weather Shelter Program.  The results exceeded expectations, with donations of 870 blankets, as well as throws and sleeping bags.  Monetary contributions allowed for the purchase of an additional 70 blankets, thus a total of 940 blankets will be used through the drive to provide warmth to the vulnerable in our community.   
In addition to donations for HomeFirst, Bellarmine delivered a truck load of warm clothing, new socks, and hygiene kits to Sacred Heart Community Service in San Jose.
"This year's fantastic turnout reflects the amazing generosity of the Bellarmine community," noted Anne Maloney, assistant director of the school's Christian Service Program, which led the efforts with the support of the program's director, Steve Pinkston, and alumni volunteer member Thomas Dines, an alumnus from the class of 2015.  
Among the contributors were several teachers and homeroom moderators who held classroom drives; the Bellarmine Jesuit Community; athletics program, including cross country, basketball, and lacrosse  teams; Big Brothers program; Bellarmine Mothers' Guild and Dads' Club; Campus Ministry; AGAPE Club; counseling and college guidance department; and the For Others Club, a student group whose efforts, led by Bellarmine senior Aditya Behal, secured in-kind donations from various local merchants of personal hygiene items which, with personal contributions, resulted in the assembly of 100 personal care kits. 
The annual Winter Warmth Drive is just one example of the numerous ways Bellarmine lives its mission to be a community "for and with others."